20 Rustic Living Room Ideas & Tips to Make Your Home Cozier Than Ever
The three words everyone wants to use for their living room are comfortable, cozy and laidback. Who doesn't love to hang out and destress in their cozy home after a long and tiring day at work? A living room provides a great relaxing space for the inhabitants to enjoy by themselves or hang out with their friends and family.
Thus, every living room deserves a makeover if it lacks that appeal. However, many are not acquainted with the tricks to transform their space into a cozy one. Follow these tips and tricks to transform your living room into a comfortable space:
Paint in Neutrals
Neutral colors give a hint of ease and comfort more than anything else can. Complement your living room with wooden panels and walls painted in neutral colors such as beige or grey to create that warm and cozy appearance.
Invest in French Doors
French doors give that needed boost to the comfort of your living room and make space look bigger. The best part is that they let you enjoy the view of snowfall while staying in the warm comfort of your living room. French doors will also make living rooms appear more luxurious.
Face the Fireplace
It is a great idea to face the fireplace and let it be a focal point of your living room. Setting your sofas to face the fireplace adds to the warm and cozy feel. You can even decorate your mantle to bring more light and focus to your fireplace.
Pickled Walls
Pickled walls give your living room that extra dose of luxury by creating a textured appearance. They bring new life to your wood and give your living room the appearance of a cabin. They also make space look like a thousand bucks without actually making you spend even a quarter of that amount.
Luxury Fabrics
One comfortable tip that designers swear by is using luxurious fabrics like fur or velvet to cover your sofas and cushions. Although they don't come cheap, just a little touch here and there can instantly transform the look of any space and turn it into a warm, cozy room. If you want to do this on a budget, simply tossing a fur cushion over an armchair or using a velvet throw over your sofa will do the trick.
Read More:
Stay Natural
Many designers advise following a sustainable and environmentally friendly approach when decorating your living room. Use eco-friendly textiles and raw, organic fibers to create a space that envelopes you like Mother Nature and stays close to your origins. After all, natural is cozy.
Oversized Sofas
Oversized sofas instantly add a comfortable touch to any space. The more sofas you have, the better. Plan carefully and decide whether you want to create a discussion circle with your sofas or simply set sectional sofas in your living room.
Decorating your space to create comfort and luxury is as simple as the ideas listed above. You can add that cozy atmosphere to your living room by employing just one or all of these trips and tricks.
More Rustic Living Room Ideas To Inspire You!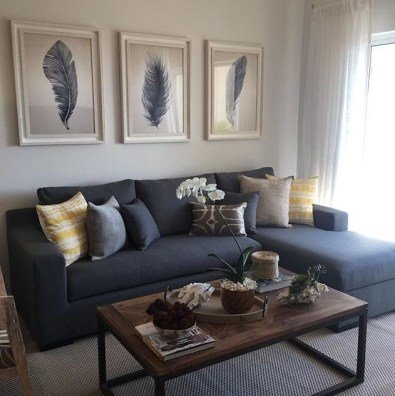 Source: Pinterest