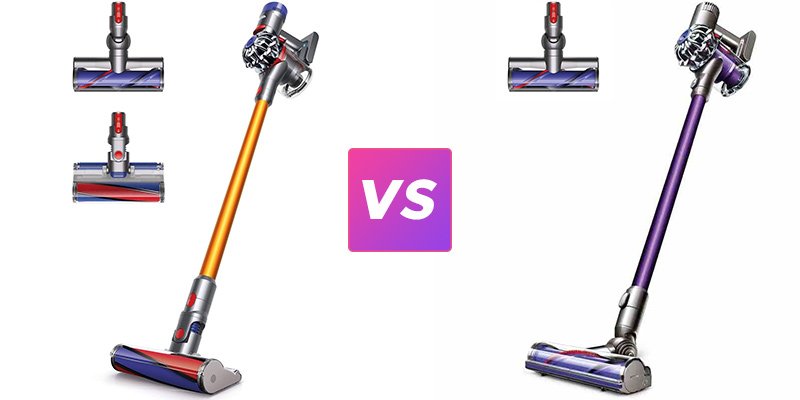 Can't decide whether you should opt for Dyson V8 Absolute or Dyson V8 Animal? If that's the case, then check out this post. In this article, we will find out what is the difference between Dyson V8 Absolute vs Animal and which one is the best. Read Here: Dyson V8 vs V10: Which One Should You Buy?
So without further ado, let's get started.
Dyson V8 Absolute vs Animal: Comparison of Features
Dyson V8 Absolute and Dyson V8 Animal are both stick vacuums, they have a slim design and light in weight. However, the Dyson V8 Absolute is lighter compared to Animal. Respectively it weighs 5.64 pounds while the latter weighs 5.75 pounds. But nevertheless, both units can be lifted to clean ceilings and carried around with ease.
Another major difference between Dyson V8 Absolute vs Animal is that the latter does not come equipped with a soft cleaner head, but it does come with a direct-drive floor head.
The soft cleaner head is specially made for hard flooring. It is actually constructed with a combination of stiff carbon fiber and soft nylon that will allow the vacuum cleaner to pick up fine dust as well as large debris. What's more, the soft design of this floorhead will prevent it from damaging the surface.
Though the Dyson V8 Animal does not come with a soft roller cleaner head that doesn't mean that you can't use it on hardwood or vinyl floors as it comes with a direct-drive cleaner head that is designed for hard floors.
When it comes to how long you can use these two vacuum cleaners actually there is no difference. Both of them can give you a runtime of 40 minutes when you are using non-motorized tools.
If you are using the direct-drive cleaner head, Dyson V8 Animal and Absolute can also give you up to eight minutes of fade-free power.
Dyson V8 Animal and Absolute are constructed with whole machine filtration. This type of filtration system functions by spinning air in 2 tiers of cyclones in order to get rid of dirt, dust, as well as other types of debris.
These vacuum cleaners also come with a post-motor filter that will catch particles as tiny as 0.3 microns.
Interestingly, both Animal and Absolute have the same filtration system.
Dyson V8 Animal and Absolute come equipped with a 0.14-gallon dust bin that is big enough for a cordless vacuum cleaner. In fact, you don't need to empty it often.
Another good thing about these units is that they come with a new dirt emptying system. Meaning to say, rather than utilizing gravity to remove dirt and dust from the canister, the collected wastes will be pushed out, thus you will not need to manually pull it out.
If you need more suction power to deal with stubborn and tough stains, no worries because both Dyson V8 Animal and Absolute comes with a maximum power mode. Keep in mind that this mode will reduce the life of the battery, but this should not discourage you from buying any of these vacuum cleaners because as mentioned, they are great for cleaning stubborn dirt.
The Dyson V8 Absolute is a bit expensive compared to the Dyson V8 Animal. So if you want to save some you can opt for V8 Animal, but if you're willing to spend a bit more you can always go for V8 Absolute. After all, these two models have more similarities than differences.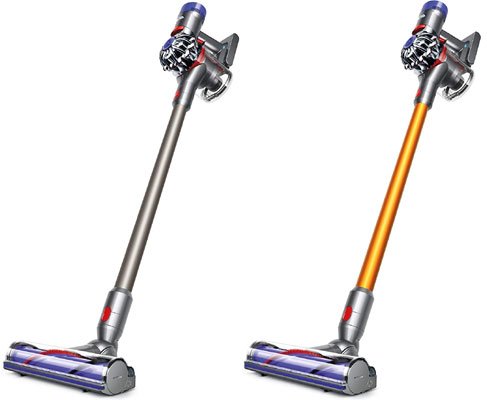 Design-wise, the Dyson V8 Animal and V8 Absolute are alike. As a matter of fact, they are almost the same kind. As mentioned they are light in weight. What's more, they are embellished with great features and are using state of the art technology.
The two vacuum cleaners from Dyson will offer you the gratify of not hauling strings here and there. On the other hand, their cordless element will save you from stumbling over the string which may possibly lead to accidents.
Dyson V8 Animal and V8 Absolute vacuum cleaners can be converted into a handheld unit with ease. In addition to that, Dyson equipped these models with a removable hand which is extremely beneficial for cleaning hard to reach and high areas.
Nevertheless, the common difference between Dyson V8 Animal and V8 Absolute when it comes to the design is the color. The V8 Animal comes in a metallic silver color only, while the V8 Absolute is available in an orange-yellow hue.
Dyson V8 Absolute and Animal vacuums are both powered using lithium-ion batteries that have a battery voltage of 21.6-volt.
When it comes to the charging time, you need to wait for 210 minutes before you can use the batteries.
Dyson V8 Absolute vs Animal: Which One Should You Buy?
Without a doubt, both Dyson V8 Absolute and Animal can be a worthy investment. In fact, these two units only differ since the Absolute is more expensive and comes equipped with a soft roller cleaner head. This feature will allow you to clean hard surfaces such as tiled, hardwood, and ceramic floors with ease.
Nevertheless, if you have pets at home, we recommend that you opt for Dyson V8 Animal as it comes with tools that are great for picking up pet hair and dander. But that does not mean that homeowners that do not have pets can't use this model. Because the tools that come with the Animal that are also present in Absolute can be used for cleaning corners of sofas, carpeted stairs, and beds.
However, if you are cleaning hard surfaces on a regular basis, the Dyson V8 Absolute is the best option for you as it comes with a soft cleaner head. Nevertheless, it is worth mentioning that these two vacuum cleaners are backed with a two-year warranty.