You have probably heard of Dyson before, whether you own a vacuum cleaner or not. The brand is quite famous among potential buyers, due to the quality associated with the brand as well as the reliability and longevity – and we will compare two of their models, the V10 Fluffy and the V10 Absolute.
It is not surprising to find that Dyson cleaners are always in the list of the best cleaning equipment, and their compact and small size makes them easy to move around.
Many love them because of their hands-free design, and the company takes customer feedback into consideration to improve future products.
That said, you need to make an informed choice when purchasing a vacuum cleaner, and make sure it fits your needs. In this article, we compare two models from the same company, the V10 Fluffy and Absolute, and see which one is the best option for you.
Dyson V10 Fluffy and Absolute Difference
| | | |
| --- | --- | --- |
| Model | Dyson V10 Fluffy | Dyson V10 Absolute |
| Weight | 5.5 lbs. | 5.9 lbs. |
| Power modes | Three modes – Suction I, II, and III | Three modes – Suction I (35 mins.), II (40 mins.) and Low power mode (60 mins.) |
| Bin volume | 0.54 L | 0.75 L |
| | Check here | Check here |
Dyson V10 Fluffy vs. Absolute – how do they differ?
Both these models are quite similar in numerous ways, although the V10 Absolute is considered a slight improvement of the V10 Fluffy, with some slight differences.
Attachments
These are:
Absolute – soft roller cleaner head (not present in the V10 Fluffy), torque drive cleaner head, docking station, combo tool, soft dust brush, crevice tool, mini motorhead head, charging unit, dust canister of 0.20 gallons (0.75L)
Fluffy – soft dust brush, torque drive cleaner head, charging unit, docking station, mini motorhead head, combo tool, crevice tool.
Bin volume
Both have quite similar capacities in their bin volumes, although the V10 Fluffy has a slightly smaller capacity – coming in at 0.54 liters, while the V10 Absolute comes at 0.75 liters.
Their suction power is not different though, as both do a good job of cleaning up almost any debris from almost all surfaces they can reach, making them versatile picks.
Dyson V10 Fluffy vs. Absolute reviews
Dyson V10 Fluffy Review
Dyson V10 Fluffy
The model includes a motorized cleaner head that utilizes a spinning movement that drags the dirt in, rather than simply sucking in the dirt. This is particularly great if you have carpets in your home, such as in the living room, as it is very easy for the rug to have plenty of embedded dirt in them. This is in contrast to a traditional vacuum, which can only get at the surface dirt rather than all the dirt under it.
There are plenty of accessories that come to help you tackle a wide array of tasks. The most obvious one is the motorized cleaning head that you use on carpets, but its power consumption is quite high so there is a non-motorized version.
In addition, it includes a bristled extension and crevice tool for cleaning up hard-to-reach areas of your home.
An additional advantage comes in the form of the wall-mounted docking station, which is quite neat compared to what you would normally get. It is a great addition that can charge and store the cleaner, and it also holds two cleaning attachments.
All the attachments can easily fit on the body directly, or you can fit them in on the rigid extension, which means that you can even use the model as a handheld vacuum for cleaning tabletops, car dashboards, ceilings, and so on. Its versatility is one of its strong points.
Dyson V10 Absolute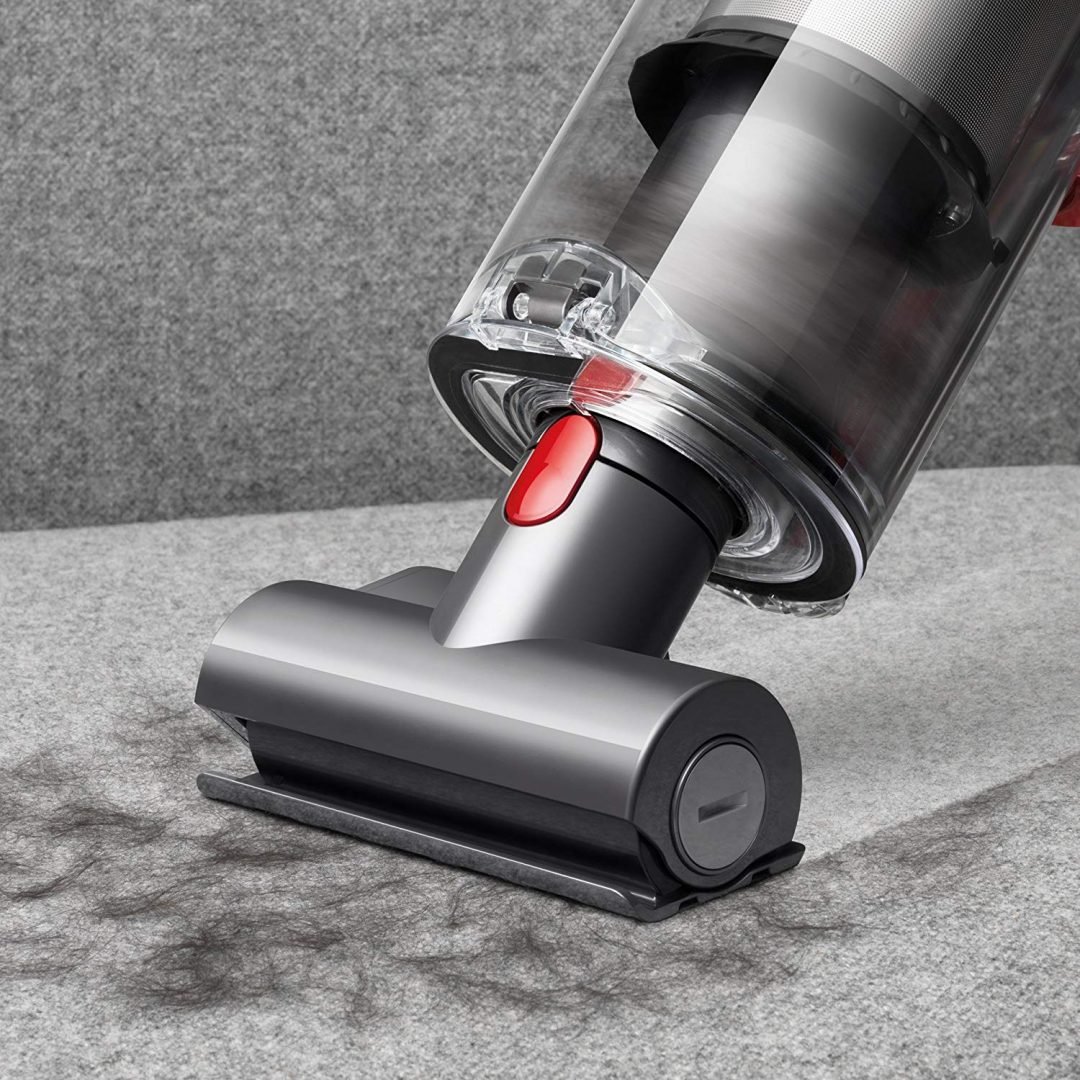 This bears quite a lot of similarities to other Dyson Absolute models such as the V8 and V6. Like all of them, it also comes in a stick design. This is quite easy to use, as well as being lightweight and compact.
Overall, this is a very easy model to use, as well as storing, even when you are done with your cleaning.
The controls are all within your reach so that it also allows you to use it without having to bend much – in contrast to many cleaners. The handle has an ergonomic design as well so that your grip is comfortable throughout its use.
It has two functioning modes: the suction mode I, which has a battery life of 35 minutes, and the Soft roller cleaner head (battery life of 40 minutes).
Depending on the attachments you use, the battery life will vary slightly, although the maximum time you can use it is 60 minutes. The suction power that it offers is continuous, so you will not need to struggle with lessening power.
Conclusion
Both the Dyson V10 Fluffy and Absolute are very similar in their design and cleaning approaches, so it is challenging to separate the two.
However, the V10 Absolute wins out because of the more attachments it has, which can prove useful in your cleaning tasks, as well as its slightly bigger bin capacity.
FAQs
What should I buy if I am doing carpet cleaning?
Both models have similar bin capacities and will require emptying on a frequent basis, but it is safer to get the V10 Absolute if you want to do extensive cleaning.
It can also work when you want to remove pet hair, clean hard to reach areas, as well as upholstery, as it comes with more tools available.
Can I purchase the Dyson in any retail store?
Unlike the Kirby that is only available from select distributors, the Dyson is widely available anywhere, and many of their cleaners are also available from online stores as well.