Cleaning floors can be a tough job, especially with a corded vacuum. If you're looking to upgrade to a cordless one then this is the article for you. In this article, we are going to review the best cordless vacuum for your hardwood floor.
We can all agree that doing chores is something we would rather not do. Unfortunately, we all have to do it. This is why there are so many devices and equipment created to make cleaning and home chores easier and manageable. Cleaning the house is an activity that the majority of us don't like doing.
The floors especially, depending on the type of floor you have should, can be tough to clean. The floor is the crowning of any house and adds an expansive feature to your home. It is the one thing you can be sure visitors check out when they come to your house. And this is why keeping it clean at all times is essential.
There are many types of floors including hardwood floors, floor tiling, ceramic floors, and marble floors, among others. Gone are the times we used to break our backs sweeping and mopping. Fortunately, in these modern times, we have modern tools to help us in this endeavor. One such tool is cordless vacuums, also known as stick vacuums.
These vacuum cleaners are perfect for hardwood floors. They are not attached to any power outlet and instead, they have a battery that is charged before using.
Depending on the type of floor you have, the cleaning method should vary. For hardwood floors, experts recommend a stick or cordless vacuum cleaner that is specifically designed for wooden floors. This is because hardwood floors require special maintenance and cleaning to keep them look neat and shiny.
However, instead of cleaning so often, you would rather prevent the dirt in the first place by using a doormat and using felt protectors under furniture legs. Otherwise, when it does get dirty, you can use the following cordless or stick vacuum cleaners below.
The first vacuum cleaner on our list is the Shark ION F80 cleaner. It is a stick vacuum cleaner that is perfect for your hardwood floor. It is also great for thick carpets which is a great plus.
The head of the Shark ION F80 is flexible and versatile to reach small spaces and nooks without you having to strain to reach these spots.
This flexibility ensures that your whole floor is spic and span. You can clean under furniture, on shelves and corners. The Shark ION has a great feature – you can switch it to a handheld vacuum cleaner just by the push of a button.
This is a great feature when cleaning walls. The fact that it is cordless means you can clean every room in your house as you're not tethered to one location.
To achieve this, the vacuum cleaner is fitted with powerful lithium-ion batteries that last up to 80 minutes. These batteries are rechargeable and can be easily switched when cleaning when they run out of juice.
The Shark ION F80 is known for its versatility. You can clean hardwood floors as well as stairs and thickly carpeted floors. This is because of the two types of brushes it comes with.
There's a soft brush for fine dust and a tough brush for pet hair, stains, and sand particles. The next section highlights the perks and downsides of these amazing cleaner.
The Tineco Hero is one of the prettiest cordless vacuum cleaners out there. It is however not only a pretty machine, but it is also fitted with amazing features and specifications that make it one of the best cordless vacuums in the market today.
It is a sleek vacuum cleaner with a crystal body that gives it a nice sleek look. It is also extremely light so you can move with it easily around the house.
The Tineco Hero is fitted with one very powerful motor to provide maximum power during suction. This enables you to clean different types of dirt including debris, fluid stains, and large dust particles on your hardwood floor.
The motor provides up to 120 Watts of power on Boost mode with a run time of half an hour without fully draining the battery. In normal mode, the vacuum runs up to one hour before requiring a charge.
For the suction pump, the Tineco Hero has a four-stage filtration system. This was created to lock in dirt and prevent it from falling back into the atmosphere.
This filter system is also responsible for sucking and absorbing allergens and dust particles in the air providing your family with great health throughout.
Because of this, Tineco Hero has a large dustbin with a capacity of 600ml to hold all the dirt you collect while cleaning. The dustbin is easily detachable just by the click of a button. This makes the emptying process so much easier and faster.
Additional features of this super vacuum cleaner include a continuous power features that keep the vacuum on throughout with pausing, dual charging that allows you to charge the two batteries concurrently, two cleaning brushes for different types of dirt: soft brush and tough brush. The following are the pros and cons of this lovely cleaner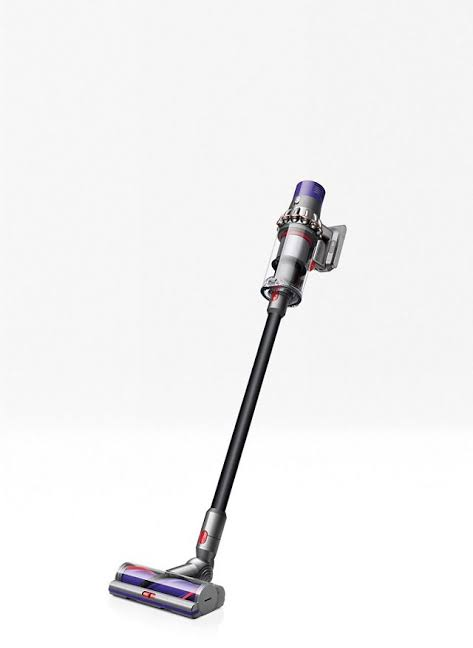 The Dyson Cyclone cordless stick vacuum is one of the most powerful vacuums in the market today. It has been put under so many tests to prove this statement.
This makes it one of the best vacuum cleaner for hardwood floors which is not an easy fete to achieve. It is fitted with a powerful V10 digital motor that enables three cleaning modes.
These modes include non-motorized mode, suction mode I, and suction mode II. For the non-motorized mode, cleaning is done by 14 cyclones without suction.
For Suction Mode I, a soft brush is used to sucking in large debris such as sand particles and fine dust particles. Suction Mode II features a strong torque head. This head is fitted with very tough nylon brushes or bristles that pick up dirt such as pet hair which can be very difficult to clean.
With just the click of a button, this great machine can transform into a handheld vacuum ideal for cleaning walls and curtains. Other than this, it is also very light for anyone to use and easy movement around the house.
The Dyson V10 features one of the longest run time. The battery has to be charged for about three hours before you can start using it. In normal mode, it can last up to an hour.
In suction mode I it can last up to 40 minutes and 20 minutes for suction mode II. The following section shows some of the pros and cons of this cleaner
Moosoo is known for making powerful pieces of cleaning vacuums and the Moosoo M is no exception. It provides maximum cleaning time and cleaning power without requiring any recharge. It is a great vacuum cleaner for hardwood floors, thick carpets, curtains, and car seats.
This great cleaner is known for its versatility due to the number of surfaces you can clean with it. These surfaces include thick carpets, hardwood floors, curtains, marble floors, and car seats.
The motorized brush in this vacuum cleaner is made to be used on all types of floors. There is also a dusting brush for dry cleaning and collecting dirt.
One of the most important components in any vacuum cleaner is the filtration system. This cleaner does well in this department. The Moosoo 4 in 1 Vacuum Cleaner features a powerful filtration system by HEPA.
Using a high speed rotating fan, the system sucks up all the dirt and seals it so it does not escape into the atmosphere. It is also responsible for cleaning the air by absorbing allergens and dust in the air. This filter system is removable to enable cleaning and recycling which is a great plus.
Another very important component is the battery life. The Moosoo cleaner is fitted with a 2200mA lithium-ion battery that lasts up to 45 minutes without charging. This is regardless of whether you are in normal mode or deep cleaning mode.
This is an amazing fete and makes it one of the longest battery running times. The battery is removable and takes 5 hours to fully charge from empty. With that, let's look at the pros and cons of this vacuum cleaner
Final Verdict
There are very many vacuum cleaners in the market today and picking the best one of you is an important decision. With any of the vacuum cleaners above, you will have done justice for both yourself and your hardwood floor.
All of them cater to different users both in terms of needs and price. They are all available on Amazon at fair prices. We have no doubt that this list has one or two cleaners that will be perfect for you and your floor.