Best Vacuum Under $150: Top 5 Editor's Picks
Dust and pet dander accumulate on carpets and furniture. Dirt and mud get tracked in your home and to your flooring.
Sure you can sweep with your old broom, but when you need the ultimate home cleaner, nothing beats the almighty vacuum.
However, getting a quality vacuum doesn't necessarily mean breaking the bank with the crazy $400 top-of-the-line models.
There are great value vacuum cleaners out there that you can get under $150 and still meet your daily cleaning needs. Read Here: Best Corded Stick Vacuum: Top 4 Editor's Picks
Here's a list of the best vacuum under $150:
OUR #1 CHOICE
SWIVEL STEERING: This upright vacuum cleaner effortlessly maneuvers around furniture and into tight spaces with ease
ADVANCED ACTION BRUSHROLL: Engineered to tackle deep down embedded dirt and reduce hair wrap
MULTI-FLOOR CLEANING: Turn the brush roll "On" for optimal cleaning on carpet and OFF to prevent scattering of debris on hard floor
XL CAPACITY DIRT CUP: A large easy empty dirt cup means less emptying for a more convenient clean. Motor Amps- 11 Amps. Motor volts- 120 volts
MULTIPURPOSE PET TOOLS: Reach and remove stubborn dirt and pet hair with the tools you need for a whole home clean.
QUICK RELEASE CLEANING WAND: Easily transition from carpet to above floor cleaning with uninterrupted suction.
Top 5 Best Vacuum Under $150
Taking up the top spot is the popular Bissell 9595A CleanView Vacuum. So popular that it boasts a 4.1-star rating with over 14,000 reviews on Amazon alone! At less than $100 this vacuum won't hurt your budget either!
Featuring a lightweight design, this vacuum is rather easy to carry from one room to another or up and down the stairs.
It doesn't sacrifice sucking power with its multi-cyclonic system that provides powerful suction and separate debris and dirt so the filter stays clean for longer.
Meanwhile, the CleanView conveniently allows you to see through the glass so you know when it's full and requires emptying.
Capture debris and dirt high and low with the convenient extension wand. Plus the extra tools— TurboBrush, Dusting Brush and Crevice Tool— makes cleaning ceiling fans, ceilings, shelves and baseboard quick and easy.
You'll also like the 25-foot power cord that provides extended cleaning reach.
Another best-seller on Amazon, the Shark Navigator SV1106 boasts over 6,000 reviews on Amazon and comes with a price tag of under $100.
For your convenience, this vacuum cleaner is cordless so you won't have to plug and unplug it when moving from one room to another.
It provides optimized cleaning with its 2-speed technology, allowing you to adjust the filtering and cleaning speed whenever you like.
Meanwhile, its extra-large dust cup with a capacity of 0.64 quarts holds more debris and dust so you don't have to worry about frequent emptying. Plus, its top and bottom empty design makes it super easy to empty without touching the accumulated dirt.
The Shark Navigator SV1106 also features a swivel steering that allows for easy maneuvering in tight spaces and corners.
Also, it is fitted with the powerful pet pick-up motorized brush that works on stubborn and deeply embedded pet hair on carpets and furniture so you do not have to repeat the cleaning process.
Now, if you are looking for a canister vacuum on a budget, then this one from Bissell is a great pick.
With over a thousand reviews on Amazon, this hard floor expert is a lightweight vacuum cleaner that is specialized in cleaning the more delicate surfaces efficiently.
It features a powerful suction with a digital fingertip control that allows you to minimize suction power instantly for delicate surfaces like carpets and rugs.
Meanwhile, its wheels are made of felt threads and rubber so they do not mark or scratch your hardwood floors or sink into your thick carpets.
Its brush features extra-soft bristles for cleaning all surfaces and even comes with various cleaning accessories to clean floors and hard-to-reach spots easily.
The dirt tank is rather easy to empty and even features a cord rewinder for quick storage.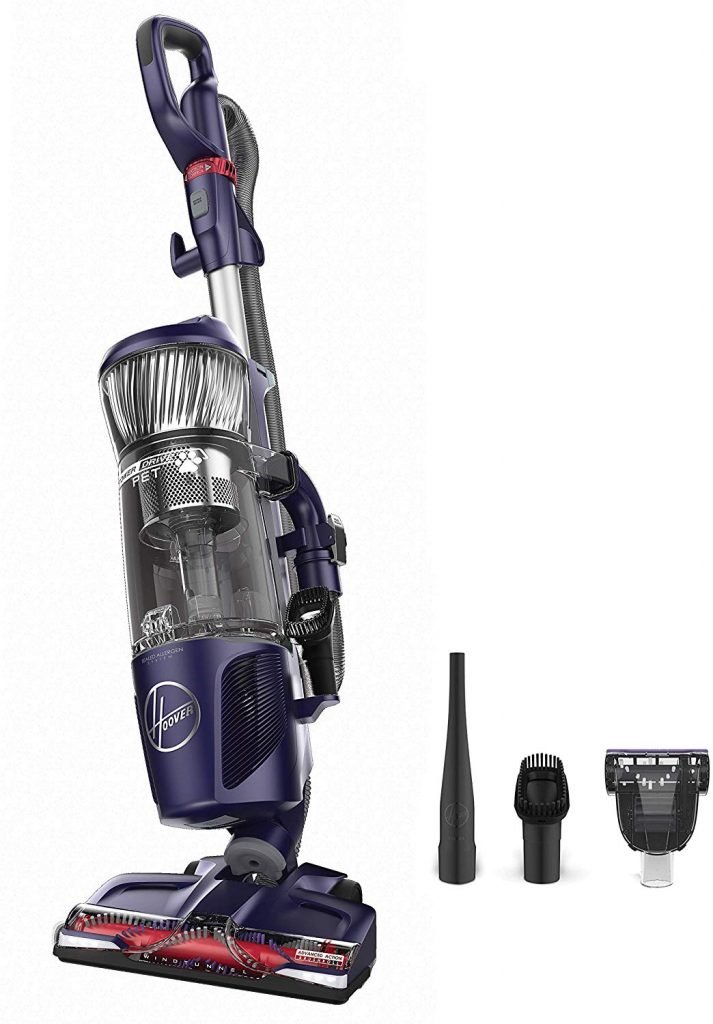 Another popular brand of vacuum cleaner, Hoover offers its budget-friendly upright vacuum, the Hoover Power Drive.
Carrying the Paws & Claws Seal, this powerful vacuum cleaner is made with high standards for optimal pet hair removal on floors and carpets, making it suitable for homes with pets.
The vacuum cleaner features the WindTunnel Technology that sucks and captures dirt, dust and pet hair deep down from surfaces and the advanced action brush roll tackle deeply embedded dirt for a more efficient clean.
Also, its multi-cyclonic technology ensures a continuous powerful cleaning experience.
Meanwhile, the sealed allergen system ensures that 99 percent of captures dust and allergens remained sealed. With the swivel steering design, you can effortlessly maneuver around your home and under furniture with ease.
Its 13 feet of extended cleaning want allows you to reach shelving, ceilings, and windows without interruption.
The vacuum is also fully-equipped with high intensity LED headlights that make it possible for you to see hiding pet hair and dirt on surfaces.
Another great upright vacuum cleaner that fits your budget, the EUREKA Swivel Plus Vacuum Cleaner features a powerful motor with strong suction power to ensure great cleaning performances on various surfaces.
Its swivel steering design offers great maneuverability around and under furniture and makes it easier for you to clean those tricky corners.
Meanwhile, the multi-surface PowerSpeed Pro nozzle and its extra-large wheels expertly glide on surfaces and pick up debris, dust, and pet hair on all floor types.
Its handle is detachable and the stretch hose can extend up to 4 times its original length so you can deep clean every nooks and cranny of your home.
In addition, the vacuum cleaner also comes with useful accessories including the extra-long 7 inches crevice tool for cleaning car seats and home baseboards; dusting brush to sweep off dust from curtains, lampshades and window blinds;
Pet Turbo Brush for removing all stubborn pet hair on furniture and stairs; and an Upholstery tool that cleans delicate surfaces like satin curtains and embroidered pillows.
Conclusion
As you can see, investing in a reliable vacuum cleaner doesn't have to wreak havoc on your budget. Some of the best and top-rated vacuum cleaners online are available at a price of under $150.
These are just some of the best vacuum under $150 and the market has still so much to offer. But, if you want something tried-and-tested, then I suggest that you pick one from our list.