How to Replace Vacuum Belt Bissell
Knowing how to change a vacuum belt is essential because it can save you a whole lot of money and time. You can easily do the replacement at home with few tools.
Like all other electric appliances, you might need to replace some parts of your vacuum cleaner after a while. For example, if it has batteries, they will gradually degrade no matter how tenderly you use it.
This is because they were made to deliver high performance that eventually chips away at their service life.
For vacuum belts, they are no different. Vacuum belts work by stretching out regularly and this eventually causes them to get worn out after extensive use.
To save you the trip to the repair shop for a replacement, this guide has been curated to be a one-stop read on all you need to know about replacing a vacuum belt Bissell. Read Here: Shark cordless keeps turning off- how to fix
To begin with, know that doing this replacement is rather easy for pros and amateurs at vacuum cleaning alike. You certainly do not need to have a professional sort you out. You can easily follow through and do the replacement at the comfort of your home with a few tools to help.
There are a few ways to tell if your vacuum belt needs replacing. First, if your vacuum starts slacking and does not clean as efficiently as it did before, this might be because of a faulty vacuum belt. Secondly, if you begin to notice a burning rubber smell from your vacuum, it is time for a replacement. Thirdly, regularly check your vacuum belt for any wear and tear.
If you have notice any of the indicators above, how is here to replace a vacuum belt Bissell.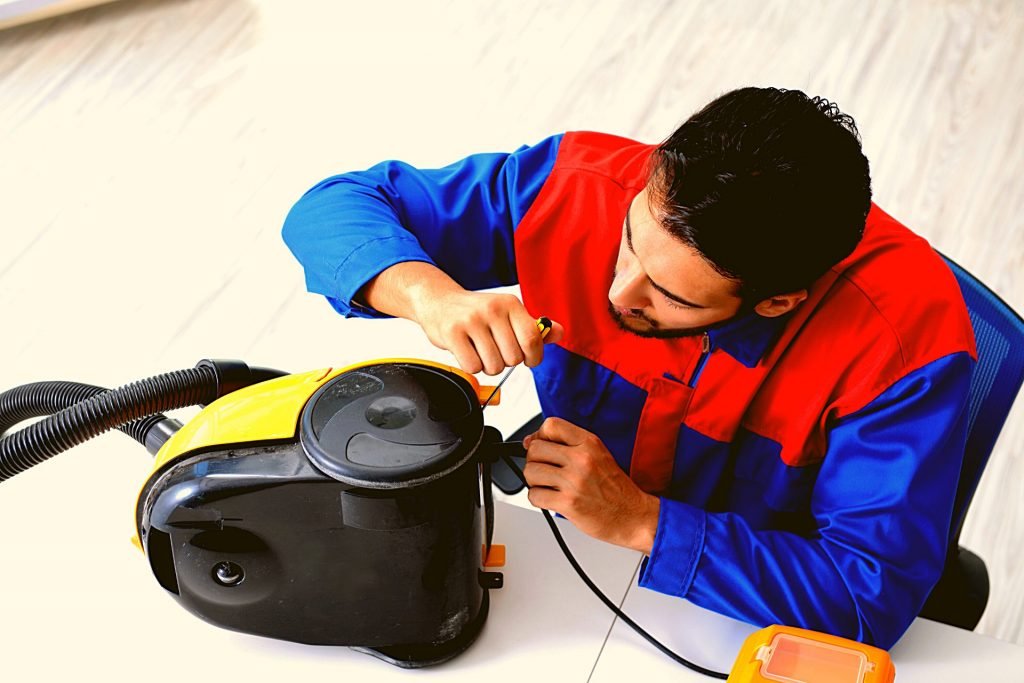 Step 1
Purchase the correct replacement for your vacuum cleaner. If you are doing online shopping, you need to be really keen on this. Make sure the vacuum belt Bissell you actually order can fit in your machine.
Check for any serial codes to make sure you get the accurate package. There are many vacuum belts available in the market. For Bissell's, some of the best options are Style 7/9/10 replacement belts that are usually a great fit for a wide range of belts.
Step 2
Detach the vacuum to access the brush roll area as well as the vacuum belt. You need to do both because a vacuum belt works by spinning the vacuum's bush roller. To properly replace a vacuum belt Bissell you will need to work from the brush roll area.
First, to access the brush roll area you can simply remove the bottom plate of the cleaner. Once you have done this, you will be able to see this compartment. For most vacuums, this step entails unscrewing 4 screws around the bottom metal part.
Step 3
Remove the brush roller as well as the old belt that might be giving you problems. Because you have already unscrewed off the bottom plate, removing the worn out belt is rather easy. All you need to do is slip it out.
Once removed, closely study the brush roll and the vacuum belt to see how to assemble these parts and how they are connected to each other.
Step 4
With the old or broken vacuum belt out of the way, go ahead to install the new vacuum belt Bissell. Do this by connecting the belt to the brush roller and the motor shaft.
If the particular model you use takes a flat or round vacuum belt type, there is a certain way to wrap around the belt. A brand new belt might feel too small for your machine but they will work just as fine. When installing, make sure the belt snugly fits between the brush roller and the motor shaft.
Once done, double check to see if you have fixed the belt just as the old one was. While you might have to struggle with the tightness of a new belt, it will eventually stretch and do a wonderful vacuuming job.
Step 5
Make sure the vacuum belt is correctly positioned such that it is back to its original position before you started tinkering with it. No matter the vacuum cleaner type, once you have the bush roll and belt back to line, you can close up the vacuum.
After installing one side of the brush, a good tug at the belt on the roller side should be enough to move it into place. This can be easily done if you place the vacuum on the ground and stand over it. For counterweight, consider placing your foot there. Read Here: Bissell multi reach cordless review
Step 6
Once the vacuum belt Bissell is right in its place, reassemble the vacuum cleaner back to shape. You can easily follow the instructions on the manual on how to do this. Different products have different methods to follow.
For most, all you need to do is reattach any pieces moved to access the brush roll area. Once you have plugged in everything, place back the bottom plate and screw it back on.
Make sure the plate is firmly connected back and you are done. All you need to do now is to give the vacuum cleaner a run to see if the belt works correctly.
Pointers
Depending on the type of vacuum cleaner and belt, a replacement is usually needed every few years. This is because the belt can only withstand a certain amount of stretching before eventually wearing out.
Conclusion
A vacuum belt Bissell is important because it allows the brush roll to easily spin and remove any debris no matter how clogged up they may be. While this guide has focused on how to replace vacuum belt Bissell, it can be used on almost all other belts.
Different vacuums have their own benefits, styles, and drawbacks. However, almost all have a simple way of replacing the vacuum belt. When you are pushed to replacing a vacuum belt Bissell, be sure to follow the steps stated above to do so easily by yourself.
Read More: