35 Rustic Aesthetic Diy Farmhouse Decor Ideas
Home styling is under continuous evolution. The home décor ideas that were ruling last year cease to exist today. New home styling trends emerge every year, and they become an old story the next year. Love decorating your home and staying with the trends?
Well, there is one home styling trend that is taking the world by a storm, and that is a rustic aesthetic farmhouse décor! If you want to stay in-trend with the home styling, you need to consider this home décor theme seriously. We are not just talking about just adding a farmhouse coffee table.
We are talking about a cohesive floor-to-ceiling look! Want to get started with a rustic aesthetic farmhouse décor? Here are some classy ideas that can help you achieve the perfect look!
Turn Your Kitchen into Farmers Market Style Open Kitchen
The open kitchen is an excellent home styling idea that has been a trend for a very long time. If you have an open kitchen, you can easily turn it into a farmer's market-inspired kitchen. Incorporate vintage stenciled signs and barn lighting with metal cages. You can even get a white tile backlash to complete the look.
Chalkboards and Sliding Doors
Another element of a rustic aesthetic farmhouse décor is a chalkboard wall with a sliding door. It is the perfect way to evoke a rustic barn. Do not install a glass sliding door as it will not seem compatible with a rustic farmhouse look. A wooden sliding door with a chalkboard is available in the market that will perfectly suit the theme of your home. Read here: 35 Modern Farmhouse Exteriors Ideas And Tips
Make Way for the Natural Light
An important consideration when creating a rustic aesthetic farmhouse décor in your home is the lighting. You might think installing barn lights can help you complete the look, but it will not.
For a perfect farmhouse look, you need to make the most of natural light. Expansive bay windows and glass doors are the ideal way to let the natural light in. It is the right way to complete the rustic aesthetic farmhouse look.
Read More:
Weathered Wood Shelves and TV Table
The next element to include in your home's décor is the shelves and the TV table. If you want to complete the look, you need to install shelves made of weathered wood. It will give your home a very farm-like look. Even the TV table that you place must be made of the same wood.
Country Cottage Inspired Arrangement
If you wish to go overboard with the entire rustic farmhouse theme in your home, going for a country cottage-inspired arrangement might be the perfect addition. To achieve this look, you need to get a mirror shaped or designed as a cottage window. You will find a lot of cottage window styled mirrors in the market. Read Here: 20 Best Farmhouse Living Room Makeover Decor Ideas And Tips
Oversized Clock
Give your home the final touch by mounting an oversized clock. A plush couch with soft cushions and a huge clock just above it is another way you can bring the farmhouse look to your home!
30 Rustic Diy Farmhouse Decor Ideas To Inspire You!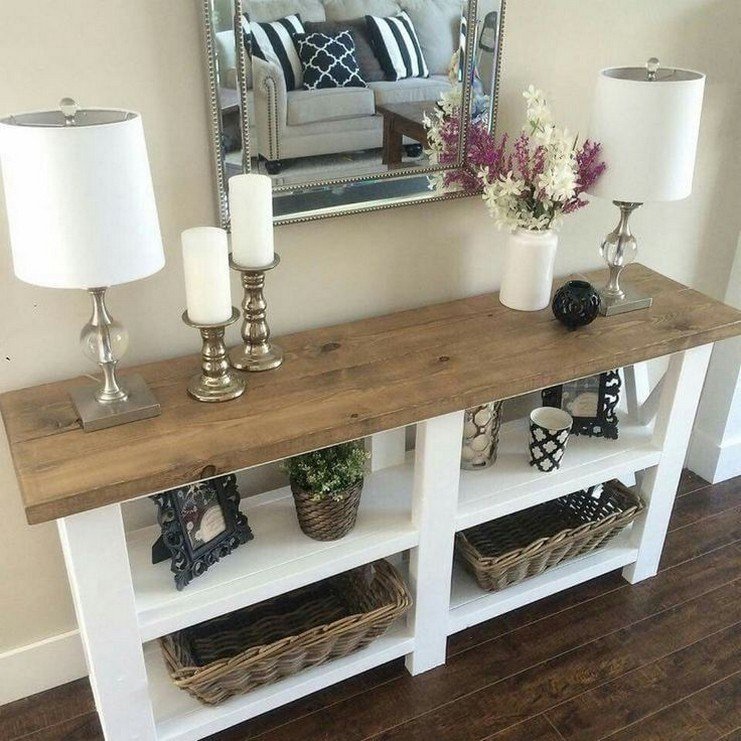 Source: Pinterest