In the majority of the homes, the backyards are full of junk. Bikes covered in rust, wild grass, broken furniture, and every other piece of junk that you can think of. The backyard of your home is more like a junkyard. You do not realize, but a backyard holds great potential to enhance the look of your entire house.
If you pay attention to the décor of your backyard, you can do wonders. Planning the setup of your backyard can help you make it your favorite spot in the house. One way you can give your home's backyard a classy and impressive look is through an in-ground pool.
If you already have an abandoned pool in the backyard, it is time that you get creative with it and bring it back to life! Cannot think of ways to give life to your abandoned backyard pool? Here are some fantastic ideas and tips that will help you give your pool that classy and sophisticated look.
Small Pool Backyard Ideas And Tips on A Budget
Minimalistic Design
One trend that never gets old is a minimalistic-design swimming pool deck. By keeping the swimming pool deck simple and choosing not to go overboard with it is a smart option. It requires less work, but the result is highly impressive. Simple yet a classy way will add the highest level of beauty to your backyard.
Cozy and Innovative Setting
Want to give your backyard swimming pool an impressive look? Try creating a perfectly relaxing ambiance by incorporating cozy sitting spaces. You can create an activity zone in your backyard swimming pool deck. Even here, going over-board with the setup can mess up the entire look. Keep it simple and cozy; you will love it! Read here: 35 Amazing Backyard Patio Ideas and Tips on The Budget
Aesthetic Flares
Do you love sitting in a relaxing ambiance in the evening and take in the fresh air after a tiring day at work? Well, you might want to consider adding aesthetic flares in your backyard swimming pool deck. You can have your friend-get-together in your backyard, without disturbing your family members. Moreover, you can spend some quality family time in a thoroughly relaxing environment.
Read More:
Bring the Green in Your Backyard
One of the most common yet beautiful ways to enhance the look of your backyard's swimming pool area is to give the place a lush green look. Nothing can beat the exquisiteness of fresh grass and the natural green, but you can even opt for an artificial turf if bringing the real thing is not an option.
These are some of the coolest ways to enhance your backyard's look and give life to the dead swimming-pool area. Let your house become the "talk of the neighborhood" by creating the most impressive backyard swimming-pool area. Read here: 30 Amazing Back Yard Landscaping Ideas To Make Your Home More Awesome
Tips to Get That Perfect Backyard Swimming Pool Area
If you do not have a backyard swimming-pool but want to get rid of the junk, consider having a backyard swimming pool. It will never let your backyard become a junkyard again!
Choose only quality materials, to avoid high repairing costs
Design a swimming-pool deck with a slight inclination to address possible run-offs
Install safety barriers and fences to create a safe, relaxing spot
Small Pool Backyard Ideas And Tips on A Budget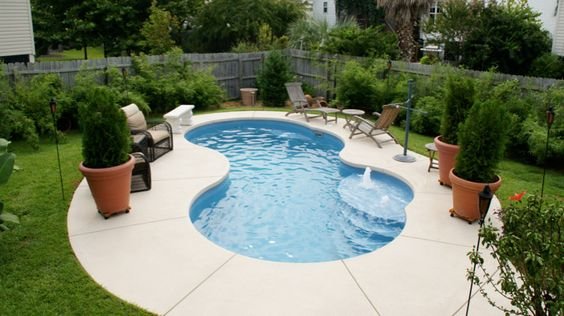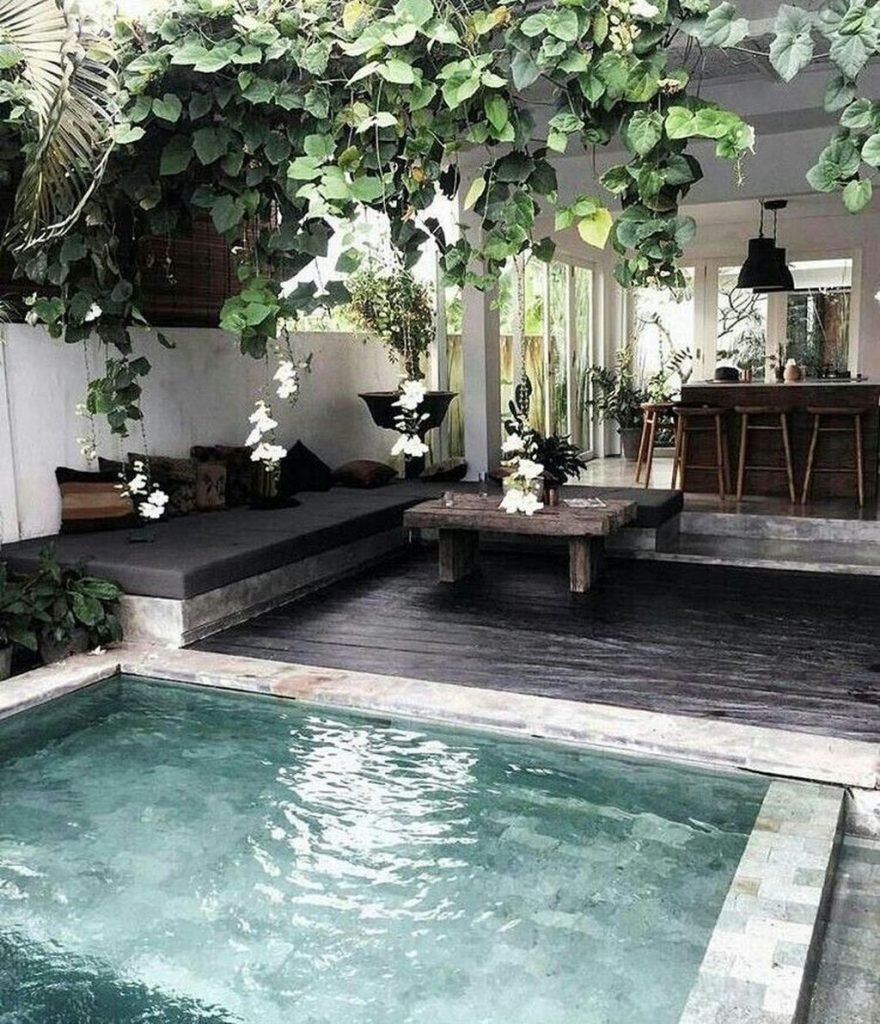 Source: Pinterest