The Best Kitchen Faucets – Buyer's Guide and Reviews
Are you thinking about getting the best kitchen faucet to meet your needs and also affordable? Then check out this article to know about the faucets more effectively. In this modern age, there are a lot of inventions that have been modernized and upgraded to make our daily life easier.
As for the kitchen, different types of accessories become modernized, and the kitchen faucet is one of them. The modern kitchen faucet has lots of features, designs, and a multifunctional tap that is attached to your kitchen sink. That is why this permanent water tap system is the must-have thing in the modern kitchen to simplify our work.
As there are varieties of brands, models, styles, and features out in the market that it is quite hard to pick the right one for your kitchen. Sometimes we choose the one that is beyond our budget and also the one that fits our budget in which can not satisfy our requirements. Do not need to worry as I have given you the best kitchen faucets tips and reviewed five products you can go through.
Read More:
Top 5 Best Kitchen Faucets Reviews
1) Delta Faucet Leland Single-Handle Touch Kitchen Sink Faucet
This modern functionality and powerful single-handle touch kitchen sink faucet has many beautiful features to make your work easy. This sink faucet has a touch-on and a touch-off sensor, which will help you to keep your messy hand out of the faucet. It has one Touch2O system where you can tap any spot on the faucet with your hand or wrist to start or stop the water supply.
You can check the water temperature from your room with the TempSense LED indicator light that changes colors of light to show you the temperature of the water. It uses a powerful magnet to take the sprayer into the place so it can not drop overtime like other faucets.
It has patented diamond seal technology that can reduce leakage and can last longer than the industry standard. Shield Spray technology can wash through stubborn messes with a powerful stream of water. You can save your time without soaking and scrubbing because that powerful spray can easily scrub out those messes.
2) Moen 7594ESRS Arbor MotionSense Two-Sensor Touchless
We want to stay updated with the latest features and trends to make our life easier for those people who can spend their extra money on renovating their sink with the newest faucet model. Then the Moen 7594ESRS Arbor MotionSense kitchen sink faucet is the right option for you.
Its spot resistant stainless finish can hold out against fingermarks and water spots to make the sink look cleaner. Motion sense can give you an outstanding hands-free touchless system that can work with hand movements to activate the flow of water. The water flow will go through only 2 minutes until you wave again to shut off. So, if you forget to turn off the faucet, it will not cause any issues. This sensor system activates when it sees any presence of objects, or else it deactivates.
This power clean technology can give you 50 percent more powerful spray power than most of the pulldown and pull out faucets without the Power Clean technology. It has a reflex system for a smooth function to move comfortably and has secure undocking on the spray head. You can easily change the settings with the touch button of the spray head.
3) Kraus KPF-1650SS Nola Kitchen Faucet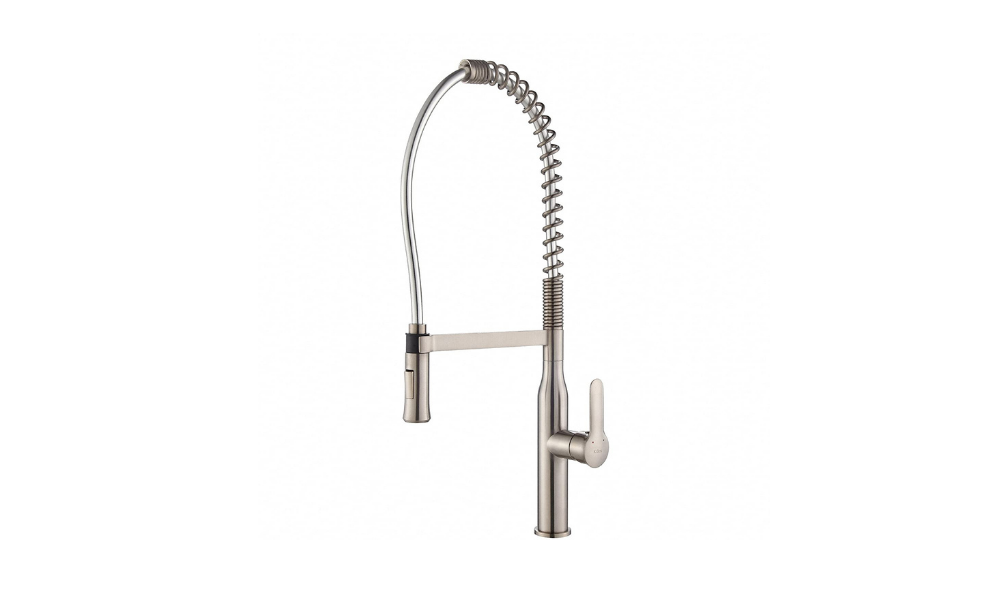 The Kraus KPF-1650SS is more functional, and it has its unique feature. It can fit in any type of sink, and also its sleek design gives high compatibility to the latest sink models. This faucet height is almost 26.25 inches with an 8.63-inch spout reach that makes it the tallest faucet in this collection. That is why this model is called commercial-style construction in which the neck of the faucet is a spring.
Its flexible functionality has a smooth retracted hose and magnetic docking technology that can securely lock the spray head into its place. You can pull down the head towards the sink, but the water hose will not extend like other pull down and pull off faucets. It has a dual-functional option that the spray system has a powerful stream and steady stream.
The whole body of these faucets is built with brass. It is finished with chrome and stainless steel plating. The quality of it is so surprising that you can not resist giving the craftsman a few praises. It has the maximum durability of drip-free and heavy dusty lead-free materials to make it more long-lasting. This model of Kraus has a lifetime warranty and customer care support.
4) Moen 7185EVC Brantford Smart Pulldown Kitchen Faucet
Moen 7185EVC Brantford is one of the best kitchen faucets that have the most unique techniques with four different types of features, for instance, voice, app, hands-free, and manual features that can meet your needs. If you want to make your kitchen modern and stylish then this faucet is the right one for you.
It can be precise water measurements at your desired temperature. The temperature limit can go up to 120 degrees F. It has capacity at a small scale of at least 1 Tbsp and as much as 15 gallons. You can customize the preset with the exact amount and exact temperature so that it can make your work a lot easier. This voice activation method of faucet can give a specific temperature and calculations or mix generic commands with specific commands.
For example, "Alexa, tell Moen to pour 1 cup of hot water", "Alexa, tell Moen to fill up a bottle," Or you can create custom presets. To control the voice assistant, you need a smartphone, Amazon, or Google smart speaker and wireless internet. It has motion sensors that can detect your hand's movement with a wave sensor that is positioned in front of the faucet head. It can start and stop the water with a simple hand movement without even touching the faucet.
For the app faucet feature, you can control the faucet with the Moen app. It can provide a personalized experience to switch the faucet directly with your phone. It can interact with IOS or android applications to give you information about usage data, customizable settings, and control all types of Moen products.
5) Peerless Claymore 2-Handle Wall-Mount Kitchen Sink Faucet
If you are searching for a two-handled wall mount kitchen tap, then the Peerless P299305LF is the best kitchen faucets for you to choose from. This traditional brass faucet is finished with chrome for a shiny look and easy cleaning. It has a dual handle design that can give you total control in finding out the right water temperature for you.
The spout has a high arching swan neck that can be spinnable 360 degrees and allows you to fill up a pot or container without any problem. This faucet has a vintage design that focuses on smooth curvature. The minor designer details combined with a beautiful neck and double handles make it look more elegant. You need to purchase the standard supply lines separately.
Things to Consider When Purchasing a Kitchen Faucet
If you are new at kitchenware shopping, then there are most of the essential facts of these features that you are unfamiliar with. You have to keep in mind the vital facts about faucets when you buy so that you can get your desired faucet at your needs.
You do not need to worry anymore because our buyer's guide of ours is filled with expert tips. You can think about this guidance when you are going to buy one so that you can get a fair value of money from the product.
Types of Faucets
Any Hardware shop has many different kinds of faucets, and you need to find the best kitchen faucets out of them. Pull down kitchen faucets have tall necks, ejectable spray heads, and of course, long hoses. Fixed-neck taps are tiring than the pull-down kitchen faucets. But the pull-down and pull-out faucets are pretty much the same. The only difference is that the pull-out faucets have shorter spouts. For that reason, they are very demandable in the smaller kitchens. Also, these two faucets have extended hose. It let the users have extra reach to the sink. It allows it to fit in tall buckets under the faucet easily.
Kitchen faucets are varied by their control's design. Double and single handles are the most known styles for the faucets. But Also, there are touchless faucets that only react to motion or touch. It is now an evolution for all faucet variables. Besides touch faucets, there are also developments for voiced faucets. These can be controlled with the voice to measure the water flow. But it is not fully developed yet.
Build material
If you need a faucet that will last longer, then we would recommend you to go for any sort of faucet but not the plastic ones. These plastic faucets tend to break easily. There are stronger variants of the best kitchen faucets, such as steel, brass, and even gold models at different prices.
Faucet size
You have to be aware of the faucet's sizes. If you bought a mismatching sized faucet for your kitchen, you will have to buy one matching faucet again. But the height of the faucet can play a bigger role here; you must check if the sprout of the faucet is long enough to cover the sink of your kitchen. And when your kitchen is occupied with a large sink, you can not ignore this decision.
Special features
Many manufacturers of the sink are making more advanced faucets with many spicy features. But choose the best kitchen faucets that will be suitable for long-term usage in your kitchen. If you have limited options when buying a faucet, you have to pick the one with the features you like. But if you go with the new and latest featured faucet, you must consider its long-term effectiveness first.
There are lots of pull-down and pull-out faucet features that come with a multi-level of spray options. Faucets with focused streams can give your rinsing more pressure, and the enhanced flow helps in decreasing the filling task's time. A thumb-trigger type valve will let you save water when doing transition in between filling. Read Here: BEST BAGLESS VACUUM CLEANER: THE ULTIMATE GUIDE
On the other hand, the touch featured faucets come with an auto shut-off feature that automatically shuts down the water flow if it runs for a couple of minutes straight. New models of hands-free faucets have special sensors that do not let the water start if it is accidentally touched. This sensor will highly benefit you if you have a pet in your apartment.
A protective finish is essential for faucets when you do not care about the appearance of your installation. There are other helpful constructions of faucets that have temperature indicators, improved seals, easy installation, and docking support of spray head, etc.
Controls
The biggest question for faucets nowadays is if the standard faucets are worth it over touch faucets. It depends entirely on how much you rely on the sensors.
If your hands stay busy all the time in your kitchen life, then turning the handle of the faucet can be a challenge for you. So if you have a touch sensor-equipped faucet, you will be able to do the other tasks more efficiently. Some individuals have several health-consciousness; they have the benefit for their bounded taps; or else it is not worth it for you because it costs too much.
For handle variations, there are faucets with single and double handles. Faucets with single or one handles have more advanced mechanisms. They allow you to be versatile to finish a two-handed task with one hand. On the other hand, the double-handle faucets let you mix the temperature. Although the temperature difference is not very much still people will go for them for that effect.
Read More:
Why Should You Choose This Type of Faucet?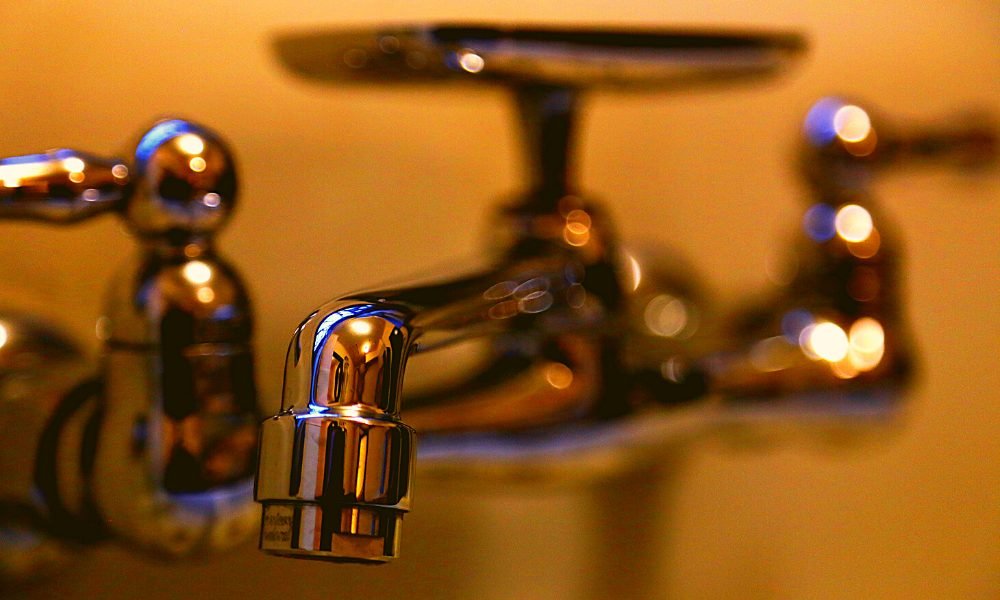 You should pick these modern and stylish faucets to make your kitchen area look elegant and your kitchen life a lot easier than usual. There are a lot of modern features you can even set the temperature of water at any time. Also, the modernized features make it the best kitchen faucets as there are recent modern features like a touchless sensor, voice activation, and even app maintenance for faucets that can work.
Choosing a faucet can be tricky because there are varieties of features, styles, materials, finishes, and price ranges that can be overwhelming. Your kitchen faucet is essential, especially when you spend your time doing kitchen work like cooking or entertaining with others. It might be a small detail, but your choice in the faucet can make a huge difference in your kitchen area.
Knowing about the right product type and the right features for you can make your cooking life a lot easier. The days of only kitchen faucets basic types are over because there are lots of modern features and designs that are affordable for you as well. There are so many types you can find.
However, the most common types are: pull out, pull down, single handle, dual-handle, commercial, pot filler, separate or side spray, motion detector, voice detector, and app detector. Style is not always the thing, and you should also check on the practical factors when you choose this faucet.
Recommended Budget
A basic faucet starts around $50 and is even low priced. As the range of the price goes up to $100 features, and the construction of faucets get better. Most specifically, you will start to see the metal materials like stainless steel and brass models more often than plastic. Read Here: HOW TO INSTALL A WATER FILTER UNDER THE SINK
Those are still mainstreamed but more advanced designs and hardware that make it less prone to leakage. Price is driven by styles, brands, features, and the finishes that you choose. Chrome finish is the most low cost you can find, and the finished choices will add to your expenses. The price range that is between $100 and $300 has the most exciting values, and they are at the lower end of kitchen faucet costs. There are high quality built material and craftsmanship that can give the faucets better durability.
These faucets have high-end features such as touch sensors, magnetic docking for detachable spray heads, and voice activation that makes them one of the best kitchen faucets in the mid-level range. There are also mid-ranged options where you can find them around $500 and the climb up to $1000. At the top end, they go almost $1500; you can find unique designs, finishes, and customizable options as they are of superior quality. Most of the top tier ranges are minor and look oriented upgrades such as the gold finish in the faucet.
Read More:
Frequently Asked Questions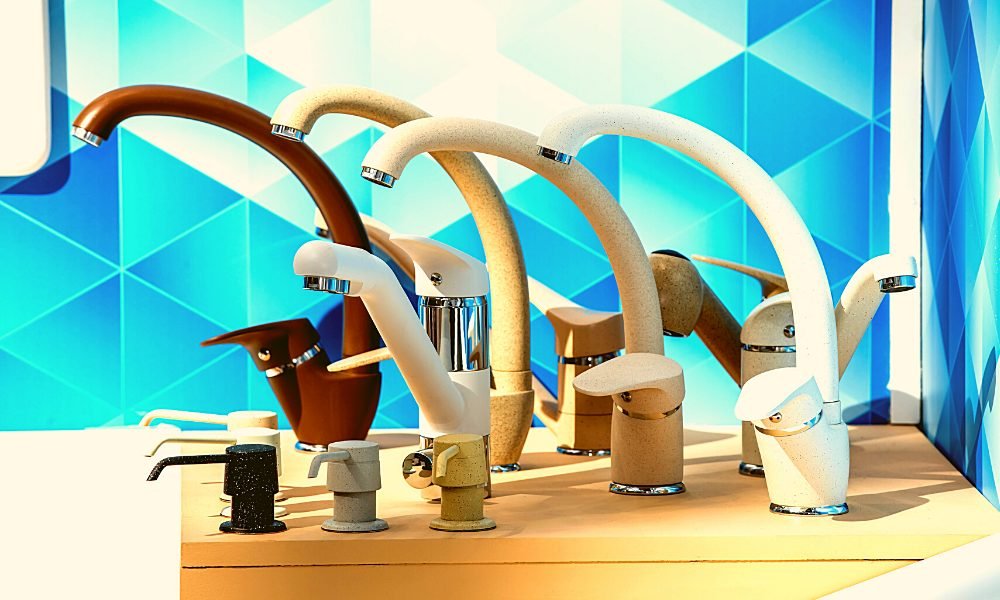 What is the price range for the faucet ideal to purchase?
Ans: I would recommend for you to have a $100 to $300 budget to go for modern faucets that can make your life easier.
What are the finishes that are available for the faucets?
Ans: The chrome finish is the cheapest one. But you can get stainless steel finish, Venetian bronze finish, gold finish, champagne bronze finish, brass, nickel, matte black, and copper.
How can you lubricate a faucet handle?
Ans: You can apply a little amount of silicone faucet grease to the two rubber o-rings on the faucet body and in the inside of the spout.
How can I clean and care for the faucet in my kitchen?
Ans: Wipe down the faucet with a soft wet warm cloth. That will help you to get rid of finger marks or water spots, or minor buildups. If you still see buildups, then use vinegar mix with water at a 50:50 ratios with a soft cloth and wipe it up. If the build-up is stubborn, then mild soap or mild cleaner can help. Avoid using any acid or solvents on the faucet that can damage the finishes.
The Bottom Line
Almost everyone loves to cook, but the mess after cooking can be tough for us to handle. That heavy cleaning is sometimes not a very enjoyable job for us. Once we have set up the modern kitchen faucet features of it will amaze us, and we will automatically enjoy cleaning with it.
Although we have reviewed the five best kitchen faucets for you and gathered useful information that can hopefully help you with buying your desired faucets. Also do not forget to check the details of the faucet features when you are going to buy one, and you want to avoid regrets when you get this product. Though, we have referred to the pros and cons of these faucets so that you can understand them and choose the right one.