Admit it or not, one of the most liberating things in the world is getting your room. You don't have to share it with anybody else, and you're free to customize it.
However, most of us received a small room as a starter. How can we make a small room look and feel bigger than it is? Here are some tricks that will help you save space and store more of your belongings in your small room.
Make the Most Out of The Available Space
If you want to focus on practicality, then you can be forgiven to go frameless. Instead of opting for a bookshelf, put your things on the floor in an orderly manner. Incorporate the design of your room into the available space.
Take note that this technique is only applicable if your space allowance is really low, and you only need to be able to rest and sleep with ease in your bedroom.
Don't Get A Fancy Bed
If you're using the room alone, getting a bed for one person is an ideal thing. Beds take up the majority of the space in a room, so getting a smaller one will give you plenty of space.
Push your bed to a wall to maximize the space. If possible, avoid adding a lamp table. Bunk beds will be a better option if you're sharing the room with someone else.
Use Natural Light Effectively
Natural light will not only help you save electricity, but it will also help in making a small room look bigger. A lot of natural light will keep the room bright and comfortable. Besides, the light makes the room less claustrophobic.
This trick will have more effect if the room has large windows to allow more light to enter the room. To boost this effect, paint the walls with light colors.
Use A Folding Bed Instead
In countries like Japan and Korea, they use foldable beds to save space. These beds are called futon in Japan and are usually inside a storage drawer unless it's being used. One of the best reasons why getting a foldable bed is better than getting a traditional one is the fact that you can store your bed away and use the space for other activities. The less furniture (e.g., wooden bed), the more working space you can get.
Take Advantage of Vertical Space
A room's horizontal space is quite easy to fill out. Meanwhile, the vertical space (usually the space from the bed to the ceiling) is not commonly used. Instead of putting all your things in the horizontal space, make a storage system that takes advantage of you the vertical space.
Built-Ins Instead of Furniture
Avoid getting bulky furniture to avoid using a lot of space, especially for items such as bookshelves. Instead, us a built-in book shelve and storage that uses the space provided by your wall small bed on top of your cabinet or drawers. This way, the bed is in the vertical space and will serve as a bunker with a storage system instead of another bed.
Storage Under the Bed
For those who want to sleep in a more traditional bed, use the space under it to store materials. This is another way to avoid using furniture that can take a big chunk of your space. Use plastic containers and arrange those into a makeshift drawer to make organizing things easier.
The Ladder
You can use old ladders as some rack where you can put things such as neckties, belts, and towels. Place the ladder in a leftover space to make sure that all the spaces are being used. Just make sure that the ladder is in the right size for your room.
Place Your Bed Near the Window
A window should not have something that covers it, which makes it a great candidate for beds. This way, you will also receive proper ventilation and light. Remember to keep your bed layout simple.
Ditch the Closet
Cabinets and drawers can take up a lot of space in a bedroom if not strategically used. If you can, ditching the whole closet or drawer is a great space saver. Do take note that once you choose this method, you might have to fold all your clothes to store them, which might not be ideal for some items. Alternatively, use a floating side shelf.
Use A Bed Without A Headboard
Space is very crucial when you have a small bedroom. Each space can be used to make life easier. That's why even trivial things such as using a bed without a headboard can make a difference.
Read More:
Avoid Any Unnecessary Furniture
Another option to consider is to avoid using full-sized furniture altogether. Instead, utilize built-in furniture such as a hanging drawer or a retractable under-the-bed cabinet. With no furniture inside your room, you can have more movement and more comfort working on your projects.
Or Use A Multi-Purpose One
Alternatively, using multi-purpose furniture is also a great idea. For example, a very small but sturdy drawer can function both as a nightstand and a computer table. Some furniture can have more than two purposes and are often custom-designed to fit in the room. Besides, bigger furnishings can be made as a multi-purpose one by taking advantage of the extra space that it fills.
Use the Sides of Your Furnishings for Hanging Things
If you managed to fit a couple of furnishings, don't let the extra space go to waste. Use the exposed side of the furniture as a "hanging rack." Things like belts, caps, and small bags, things that you use often are ideal for storing in this place.
More Ideas for Space-Saving in Small Bedrooms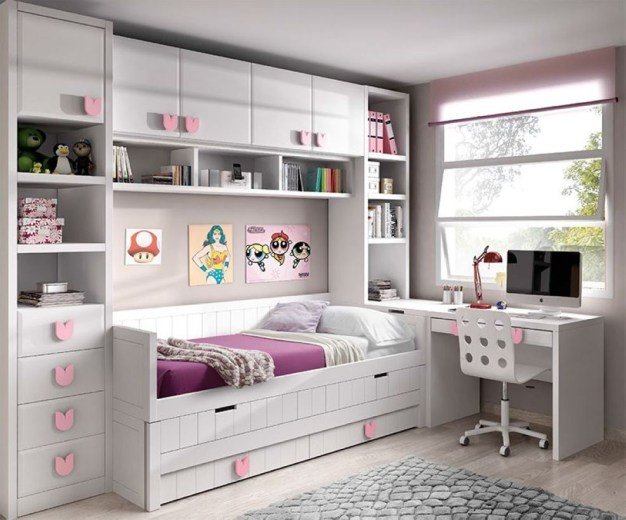 Source: Pinterest